Honorees not the only winners at
2022 Evening in the End Zone Awards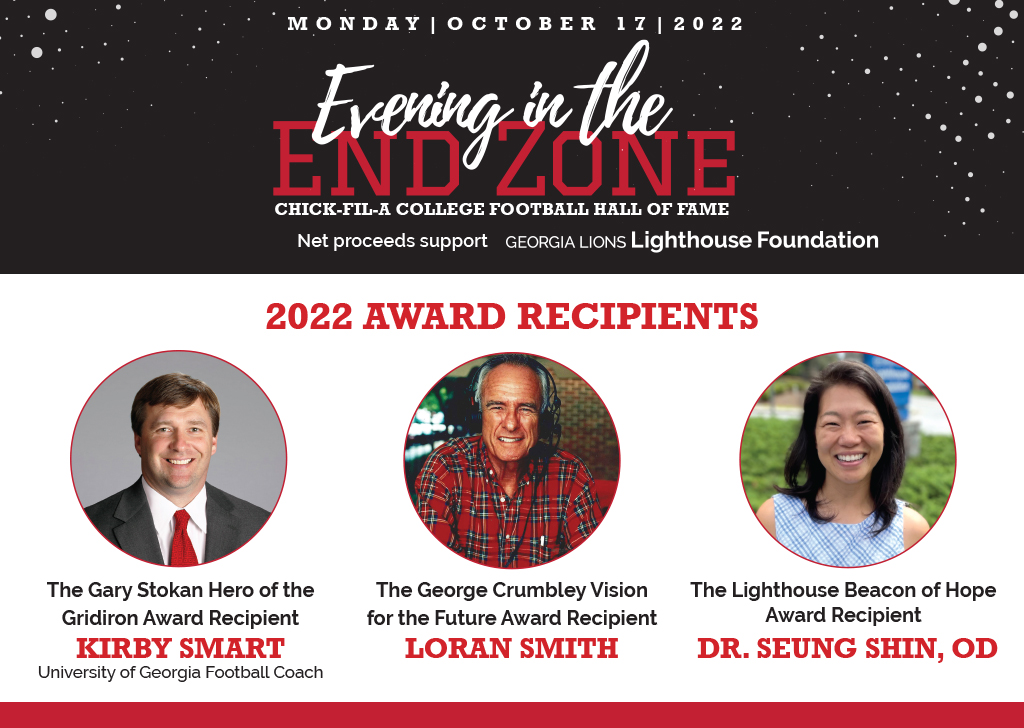 Georgia Lions Lighthouse Foundation is helping Georgians with impaired vision through programs that provide vision services throughout the state. Georgians will be the big winners at the 2022 Evening in the End Zone presented by Peach Bowl, Inc. Evening at the End Zone honors the legacy of great athletes, coaches, administrators, and medical professionals who have a strong, positive impact within their communities.
Under the leadership of Host Committee Chair Kevin Butler, the 2022 Evening in the End Zone, will be held October 17 at the Chick-fil-A College Football Hall of Fame, and will celebrate three special and deserving Award recipients.
Kirby Smart, current head football coach of the University of Georgia Bulldogs, his alma mater, where he had an illustrious college football career will receive the 'The Gary Stokan Hero of the Gridiron Award'. He is known for his unyielding focus and work as a champion on and off the field. Kirby brings that same passion to help children and families who are facing adversity. From housing, education and medical support he is devoted to youth encountering hardships in our community, those battling misfortune so that they can become victors over their circumstance, and the advancement of Georgia's youth. "It has been an honor to watch Kirby's success and leadership at UGA and in the community, it will be an honor to present this award," said Gary Stokan.
Loran Smith, a true sports enthusiast, a great ambassador of athletics in general, journalist, author, and former chairperson of the Georgia Sports Hall of Fame, will receive 'The George Crumbley Vision for the Future Award'. Founder of the Loran Smith Center for Cancer Support of Piedmont Athens, Loran recognized the need to support and treat the patient and family – not just the disease. Because cancer treatment involves more than medical care. The Loran Smith Center of Cancer Support offers free services and programs such as yoga, tai chi, nutrition classes, expressive art classes, complementary therapies (oncology massage, Healing Touch, and Reiki), and counseling to anyone affected by cancer at any phase in his or her journey, regardless of whether they are a Piedmont patient. "I look forward to seeing Loran in person, on-the-air, on the big screen, or any other format. I have been a longtime fan and supporter of Loran Smith and couldn't be more proud that he is receiving this award," stated Kevin Butler.
Dr. Seung Shin, OD, received her undergraduate degree at the College of New Jersey and graduate degree at the University of New York (SUNY) College of Optometry. She moved to Georgia after graduation, was staff optometrist at a Walmart Vision Center for 12 years, and now is working part time at Eye Joa Galleria in Duluth. Dr. Shin will receive the Georgia Lions Lighthouse Foundation's 'The Beacon of Hope Award' for a medical professional. Shin began volunteering with Georgia Lions Lighthouse Foundation in February of 2021. Since that time, she has served countless hours in our Chamblee clinic and on the road providing eye exams to students in Title 1 Schools. "Dr. Shin embodies volunteerism and giving back. She has a kind and gentle manner that puts all our patients at ease. With her help, Georgia Lions Lighthouse Foundation has been able to serve more patients year over year," said Lori Miller, Chief Program Officer.
The 2022 Evening in the End Zone guests will celebrate the University of Georgia's Championship Legacy by honoring the University of Georgia Football Coaches and Athletic Directors from 1980 and 2021. We are excited to have honored guests Coach Vince Dooley, Athletic Director Josh Brooks and award recipients join us. Heading into its fifth year, Evening in the End Zone raises money for Georgia Lions Lighthouse Foundation patients. This year, the goal is to raise $350,000.
Georgia's avid Bulldog fans will be the real MVPs this year by teaming up with us to give sight to Georgia's who need it most. Proceeds raised will benefit Georgia Lions Lighthouse Foundation's full continuum of vision services which include vision screenings, complete eye exams, prescription eyeglasses to surgery for uninsured and underinsured Georgians. Vision services are provided statewide through our Chamblee full service optical clinic, 3 Georgia Lions Lighthouse Foundation glasses only clinics located at Grady Hospital and Grady's Primary Health Center Brookhaven and Kirkwood locations, as well as our Frame Kit program, and Mobile Clinic.
To become a sponsor, purchase a table or tickets or to check out the current fundraising leaderboard, visit https://www.classy.org/event/evening-in-the-end-zone/e405434.