Dear Friends,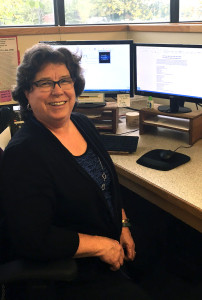 We are excited to introduce Ruthy Stephens as the new Community Engagement Coordinator at the Georgia Lions Lighthouse Foundation. Ruthy has been with the Lighthouse since May of 2015 as an Intake Specialist, and has transitioned into her new role effective immediately.
As the Community Engagement Coordinator, Ruthy will facilitate KidSight USA Vision Screenings, manage collaborative projects between the Lions of MD-18 and the Lighthouse, and serve as a community liaison.
Ruthy brings to the Lighthouse a vast amount of experience in program management; she holds a BS in Health Education from the University of Georgia and worked in Disaster Services for the American Red Cross for over 20 years. While working with the American Red Cross she met her husband, Don Stephens. Together they have three sons and six precious grandchildren. Ruthy is an animal lover and enjoys reading, traveling, and the great outdoors.
Connect with Ruthy:
Ruthy Stephens
404.325.3630 x 315
Meet Ruthy – Our New Community Engagement Coordinator