Nearly 2 in 1,000 babies are born each year with congenial hearing loss, making it one of the most commonly occurring birth defects (CDC). For many parents, this is further complicated by the high cost of pediatric hearing aids. We believe that no child should be denied hearing aids based on an inability to pay. For families living in Georgia, there is hope and a resource:  The Georgia Lions Lighthouse Foundation.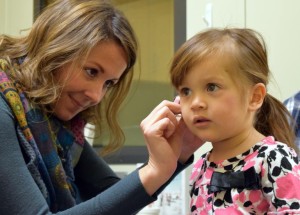 Our Pediatric Hearing Program offers high quality, affordable access to Georgia families who are uninsured, underinsured and fall between the gaps in Medicaid, PeachCare and the federal limit for families receiving subsidies or tax credits. There is a client co-payment based on a sliding scale according to gross household income and the number of hearing aids required.
Services Available
• Up to 2 digital hearing aids, or BAHA soft band from top manufacturers
• 9 appointments with an audiologist (over 3 years)
• 12 ear molds (bilateral loss); 6 ear molds (unilateral loss)
• 3-year repair warranty; 3-year, loss and damage warranty
Program Requirements
Age:                                 Birth – 19 years old
Income:                         Family income up to 400% of the Federal Poverty Guidelines
Residency:                    One parent/guardian must be a Georgia resident for at least one year
Insurance:                    Uninsured or insurance denial for hearing aids
Identification:             Birth certificate or valid Georgia ID card
Miscellaneous:            Must have a current audiogram (≤ 3 months old) | Must be a patient of an approved Lighthouse Foundation provider
For a list of pediatric hearing providers, click here.
For more information, please contact the Hearing Department | 404.325.3630 |
Funding and Partnerships
The Pediatric Hearing Program is made possible through a partnership between the Georgia Commission on Hearing, The Georgia Public Service Commission, and the advocacy group Let Georgia Hear.
Resources
CapTel Phones  | Let Georgia Hear | Georgia Council for the Hearing Impaired
Providers
We are pleased to have a fantastic Lighthouse Foundation Hearing Partner Provider team. The Lighthouse Foundation has contracts with Unitron, Beltone, and Oticon hearing aid manufacturers to provide specific sets of products. Phonak provides aids for our pediatric patients only.
Please check out the links below for more information about the program. If you would like to participate as a Partner Provider, please fill out and return the W9 form and the Provider Agreement form to Shetera Reaves, the Hearing Program Manager. You can reach Shetera Turner at 404-325-3630 x 313 or email .
W9 form
Provider Agreement
For more information about the program, please see this FAQ page
with commonly asked questions and answers.